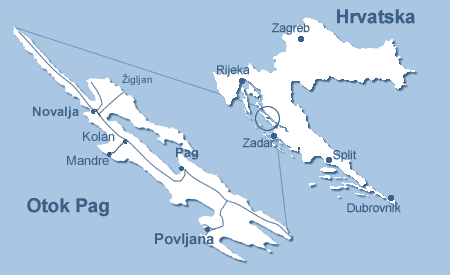 Island Pag
Information about island Pag
Pag (pronounced [pâːɡ]; Latin: Pagus, Italian: Pago, German: Baag) is a Croatian island in the northern Adriatic Sea. It is the fifth-largest island of the Croatian coast, and the one with the longest coastline. In the 2001 census, the population of the island was 7,969. There are two towns on the island, Pag and Novalja, as well as many smaller villages and tourist places. Pag is the only Croatian island that is administratively divided between two counties. Its northern part belongs to Lika-Senj County, while the central and southern parts belong to Zadar County.
Pag belongs to the north Dalmatian archipelago and it extends northwest-southeast along the coast, forming the Velebit channel. The island has an area of 305 km2 (118 sq mi) and the coastline is 302.47 km (187.95 mi). It is around 60 km (37 mi) long (from northwest to southeast), and between 2 and 10 km (1.2 and 6.2 mi) wide. The southwestern coast of the island is low (including the Pag Bay with the large Caska Cove), and the northwestern is steep and high (including Stara Novalja Bay). Most of the island is rocky; smaller areas are covered with Mediterranean shrubs. The southeast of the island contains karst lakes Velo Blato and Malo Blato. The island's highest peak, at 348 m (1,142 ft), is Sveti Vid (St. Vitus). Grapes (the authentic žutica), vegetables and fruit are grown in the valleys and fields. The northern area of the Lun peninsula is mostly under olive groves. Most communities on the island are connected by a road. A 300 m (980 ft)-long arch bridge connects the southern part of the island to the mainland. The Prizna - Žigljen ferry connects the northern part of the island to the mainland. The island has two towns, Pag and Novalja, and many smaller villages and communities, including Lun, Stara Novalja, Gajac, Kolan, Mandre, Šimuni, Metajna, Dinjiška, Vlašiči, Povljana and others.
The first Croatian wind farm was constructed on Pag island, just northeast of Pag town. The 5.95 MW »Vjetroelektrana Ravna 1« wind farm is composed of seven Vestas V52 wind turbines and has operated since 2004. Throughout its history, the economy of Pag has been connected to salt production, a traditional activity that has been practiced for almost a thousand years. The origin of the town of Pag is connected with the exploitation of natural suitably shallow coves within the closed bay (the so-called "Valle di Pago") for salt manufacturing. The island of Pag is most famous for its production of Paški sir, a distinctive cheese made from the milk of the island's autochthonous breed of sheep. Pag is quickly earning a reputation as a party destination due to its increasingly bustling nightlife, a good deal of which is centered on Zrche beach.